Alfa Romeo And FIAT of Tacoma: Trusted Fiat Dealer in Tacoma
Is this your Business?
Customize this page
Claim this business
Sales Hours
09:00 AM to 07:00 PM
Service
Monday
Tuesday
Wednesday
Thursday
Friday
Saturday
Sunday
Sales
09:00 AM - 07:00 PM
09:00 AM - 07:00 PM
09:00 AM - 07:00 PM
09:00 AM - 07:00 PM
09:00 AM - 07:00 PM
09:00 AM - 07:00 PM
10:00 AM - 06:00 PM

Dealership Services - Service, Finance, Sales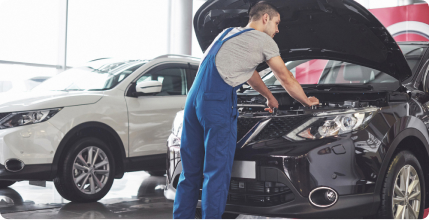 Quick Support
We bring together hassle-free car servicing ensuring 100% transparency and detailing with 24/7 auto services while you get a sound sleep. We fix everything: oil change, wheel alignment, steering and suspension, car battery check, engine tunning, air filer, washing car, and the list goes on.
Service Specials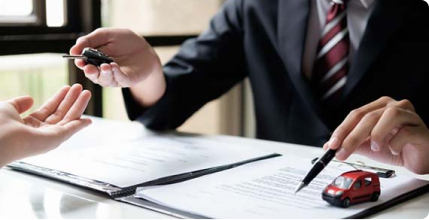 Pre Owned Car Financing
We bring home happiness with our auto financing schemes to cater to the needs of our users like customized procurement of car loans offering low down payment, quick sanction and disbursal, flexible tenure, low rate of interest, leasing option with flexible installment, warranty claims, etc.
Vehicle Financing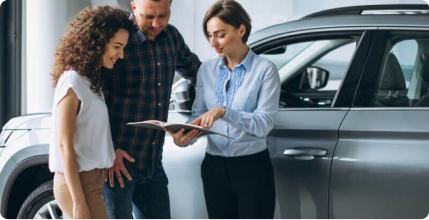 cheap used cars for sale
Your car is more than just a mode of transportation. So Whether you're in the Searching for a stylish and efficient compact car, a spacious and versatile SUV, or a powerful and stylish sports car, you're sure to find what you're looking for.Our sales team is knowledgeable and friendly, and they're here to help you find the perfect car for you.
Certified Cars
Review From Google (Most Relevant)
I was looking forward to receiving the survey to leave this feedback, but I never got the email. So I'll leave my thoughts here instead. The service was terrible, Brandon was my service advisor. After dropping off my car, Brandon never called me to update me on what was going on with my car, I had to place several calls that went to voicemail... I left a voicemail for the service manager Christine requesting an update- she didn't answer my call or return it either. The only call Brandon placed to me, was to advise me my car was ready to pick up 2 days after dropping it off. 3 days later, my car is still having the same issues it had when I dropped it off earlier this week. The customer service here doesn't exist at all, neither do the mechanics complete the work & repairs on the cars as they are supposed to- either due to lack of knowledge, intentional lousiness or both? I'm not returning to this location. I rather commute to the service center in Kirkland. I'm giving two stars, only because they returned my car to me sooner than anticipated.
I went into the dealership not really expecting them to be able to help me get a vehicle. John Valentine had already done the preliminary stuff and he assured me that I would get into a vehicle that day; needless to say I still didn't believe him. John showed me many Fiat 500 vehicles because I kept changing my mind about which one I actually wanted. He would go to the finance guy each and every time and plead my case. Some of them wouldn't work for me, but we actually did find the Fiat 500 of my dreams. This is a vehicle that I have wanted ever since it came out and just didn't think it would ever be possible because I had less than perfect credit coming out of a divorce, but John and his finance guy made it all happen. I am so happy that I took the chance and the opportunity to meet with them. John even gave pointers to my son on how to drive a stick, so we could both drive it. I very highly recommend this dealership and especially John Valentine if you are looking for a vehicle. He is not like your typical salesman; he actually cares and it shows. Thank you very much John for making my dream car come true. You were wonderful and both my son and I appreciate you very much. You definitely deserve a raise.
I bought a 2013 Fiat Abarth here in February 2019, and thought I was getting a great deal at the time. It was like new, and had only 24k miles on it. After driving it home, it smelled like there was oil leaking and had an oil burn smell as well. Called the dealership about it, and they stated this was normal with a multi air engine. (Note that this was within their 3k mile 30 day warranty period.) Fast forward 3 months and the problems with the oil leak persisted, and it has an evident leak on the ground wherever I park, as well as the oil burn smell also. Along with this, the clutch was having an issue where it felt a bit jumpy in 1st and 2nd gear. I called to get my oil changed and have the clutch inspected, and they stated they won't look at anything without a $120.00 charge for inspection, so I opted out of the clutch inspection. After my oil change, within 40 miles of driving, the check engine light came on. I used a friends code checker to see what was the issue, and it gave a general sensor fault code. I called Fiat of Tacoma service to ask if something they did caused the engine light, as after researching online saw that changing the oil filter required sensors and vacuum lines to be removed, and they yet again stated it was a $120.00 charge just to look at it. I asked if they could also look at the clutch for that charge, and they said no, that each issue is a charge of $120.00 to be inspected. I reluctantly agreed to pay for both issues to be inspected. It took them almost 3 hours to do the inspection, and they came back with the following: -a cracked ejector T and a bad solenoid sensor. -a bad rear main seal that fouled the clutch with oil and was the cause of the oil leak. This cost me $303.00 to find out, and then they wanted an additional $3,809.51 to fix both issues. (See picture of quote and inspection report) I asked if they caused the ejector T crack and sensor issue, and they said no. I asked if they knew about the rear main seal and clutch when I bought the car, and they denied it saying it had been inspected prior to sale. I said these repairs will cost a third of the cars worth and they didn't seem to care about my thoughts on the matter. I took my car to a mechanic friend to see if they could do the work, as they would do it for much cheaper. The parts alone were only $530.00 compared to the $2,154.96 Fiat wanted. After they took apart the transmission and inspected the clutch and flywheel, they found that not only was the clutch still brand new, but also that the rear main seal was perfectly intact as well. The throwout bearing was causing the clutch issues which had nothing to do with what they said was found in the inspection. Also, after resetting the CPU, the check engine light remains off 250 miles later. I paid the man for all his hard work. (See side by side part pictures for comparison) After this it is apparent that Fiat gave me an excessive estimate for something that wasn't broke, set an engine light code that required me to come back in for service, and charged me for inspecting something that they clearly did not inspect properly. I would not suggest anyone buy a car here, nor get any existing used car serviced here as they are using some shady service practices. Now I am stuck with a car I still have to find an oil leak on, and the value to cost ratio has me in the hole on it. tl;dr This dealership and service department sold me a car with know issues, charged me to inspect things they didn't inspect, and then gave me an excessive quote to fix something that wasn't even the real problem to begin with.
Super friendly and professional dealership! My wife and I both traded in our vehicles and got amazing deals and walked out with even better deals on two new cars! They made the process simple, understandable, and went out of their way to make it as easy and painless as possible. Their attentiveness and professionalism is second to none, and I couldn't recommend this dealership higher.
Excellent customer service, they work awesome deals for what fits your needs! I highly recommend going on over to their dealership for your automobile needs :)
Terrible and rude manager. They even sell a brand new car thats damaged from garage at the same price as other non-damaged car. I highly recommend skipping this place.
Best dealership I've been to. People were amazing, particularly Joey. He was so knowledgeable and kind, he felt more like talking to a friend rather than a salesman which is definitely what you want. He helped both me and my husband get new cars, and they were very fair with our trade ins. All in all a 10/10 experience and I'd highly recommend them if you're shopping around for a new car!
Just stopped by to look for a model that caught my attention, the sales person was very helpful, I test drove it , and yes! Got a great deal, not for one vehicle, for 2 , got a great deal for both.. the staff is amazing.. will go there again for my #3.. great service..